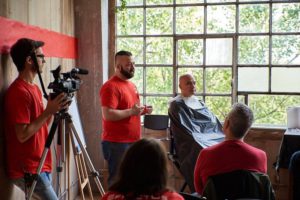 One of the main activities promoted by the EffectUs Cultural Association is training through the sharing of artistic knowledge, a mission achievable only through the willingness of our Tutors to share their knowledge.
This sharing takes place through: CONFERENCES, WORKSHOPS (short classes of 1 maximum 2 hours held during EffectUs Event) and MASTERCLASSES (real classes of one or more days) on which our members are entitled to discounts.
Below you can have a brief overview of all the topics that have been covered during the lectures organized in the EffectUs Event programming, divided by year and with the relevant lecturer. For more information about our tutors you can visit the dedicated section of the website.
We would like to remind you that for EffectUs members, access to videos on the vimeo channel made during the event is reserved. More information on how to get this benefit is available in the membership section of the site, click instead on the following link for the list of currently available videos.
EffectUs Event 2022
– Marcello Barretta GO PRACTICAL: Book presentation "A director's perspective on the use of practical effects"
– Morten Jacobsen: Career overview, interview with the artist
– Valentina Visintin, Giulia Giorgi: Effectus state of the art, 8 years of association, developments and new goals
– Andrea Leanza: Career overview, interview with the artist
– Silvio Tassinari, Diana Branca: 3D scanning, comparing techniques
– Open Debate: Training in the world of FX faculty, employers and students compared
EffectUs Event 2021
– Nacho Diaz: Career overview
– Neill Gorton: Talk on Education
– Mario Melillo, Valentina Visintin, Andrea Leanza and Giulia Giorgi, in collaboration with Rete Doc: Special effects and work organization, three models compared
– Pierre Oliver Persin: Career overview
EffectUs Event 2020
– Chiara Chiappa: Employment contracts in the performing arts
– 3D revolution
– Andrea Leanza, Federica Castelli: Behind the Scenes of Hammamet
– Emanuele De Luca: Career overview
– Mark Coulier: Career overview
– Steve La Porte: Career overview
– Valentina Visintin: What's in my kit
EffectUs Event 2019
– Lorenzo Tamburini: Career overview, the artist tells his story
– Demetrio Chiappa, president Doc Servizi: Work is not makeup, opportunities and prospects for freelance workers in the makeup world
– David White: Career overview
– George and Roulius Alahouzos, Alahouzos FX: Artists talk about their experience
– Emanuele Foglietti: Fidac national contract and unions tell the state of the struggle
– Effectus network: Presentation of effectus journal vol.2 and its authors: the first Italian industry publication
– Lisa Carracedo: Career overview and art finishing
EffectUs Event 2018
– Ivan Poharnoc: Artist talks about his career and the creation of Filmefex (Hungary)
– Panel: Film Makeup Conference.
– Gary Christansen and Patricia Terry: Tangible and intangible, a conversation about success with the authors of the book "Leading ladies of makeup effects"
– Daniela Furlani Doc Creativity: The protections and benefits of cooperative networking, new opportunities for film and creative professionals
– Luigi D'Andrea, Tiziano Martella: Special makeup effects and stage effects
– Javier Coronilla: Career overview, artist recounts his adventure in animatronics (Spain)
– Effectus Network: Presentation of EffectUs Journal and its authors, the first Italian industry publication
– Clinton Aiden Smith: Career overview, artist tells his story and Cosmesis Studio (South Africa)
EffectUs Event 2017
– Daniele Tirinnanzi: From Italy to Los Angeles
– Belsito Antiques: Innovative product presentation
– Matteo Arfanotti: Live demonstration
– Maschera D'Apollo: Product presentation for wigs and hairpieces
– Roger Samuels: Special Makeup FX, owner of UNREAL studio
– Valentina Visintin, Giulia Giorgi, Luigi D'andrea: Effectus, founders talk about the importance of community
– Goran Lundstrom: Special makeup FX artist, owner of EffektStudion
EffectUs Event 2016
– Giannetto de Rossi: Meet the artist
– Paolo Brozzi: Portrait sculpture
– Jörn Seifert: Career overview and tells us about his studio Twilight Creation (Germany)
– David Bracci: Presentation of the book "Make it yourself – special makeup effects vol. 2"
– Gulio Pezza: Meeting with the artist
– Cliff Wallace and Steve Painter, Special FX: Career overview
– Prochima: New FX product line presentation
EffectUs Event 2015
– Sergio Stivaletti: Meet the Artist
– Donatella Mondani: Presentation of the book "Manual of special makeup effects"
– Luigi Rocchetti: Recounts his team's experience on the remake of the colossal Ben Hur
– Neill Gorton: Live demonstration of prosthetic application
– David Bracci: Presentation of the book "Make it Yourself."
– Meeting with special makeup effects artists from Makinarium's team of the fairy tale "The Tale of Tales"